How to Participate in a Zoom Meeting (on a computer)
Follow these 3 steps to participate in a Zoom meeting
---
1
Download and install the Zoom Client for Meetings on your computer
You will want to do this ahead of time, as you just need to do this once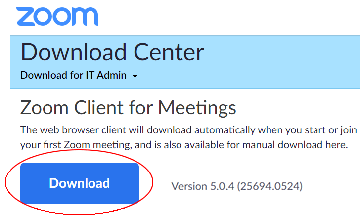 Note: Here's how to determine the version number of your installed Zoom.
Note: If you can't install it on your computer, or your computer lacks a built in camera or microphone, there are workarounds:
---
2
When you receive an email invitation (and are ready to join the meeting) click the link:
---
3
Click Open Zoom (on a Mac, click Open zoom.us.app )
Note: This assumes you have already installed Zoom Client for Meetings. If not, click here.

---
4
Here is what it looks like:

Note: Wiggle your cursor over the Zoom window to see the controls (Mute, Video, More, etc)
Note: You can make the controls always visible in Zoom Settings
And, some things you can do in Zoom:
A

Note: When entering Meeting for Worship, please mute your microphone until you wish to speak.

B

C

Click Participants to see who's participating

D

Click Gallery View to see all participants

Note: Here's how you switch between Gallery View and Speaker view on a smartphone.

E

Click Speaker View to see just the speaker
(and maybe a few others)

F

Send a message to one or all participants in the meeting

1. Click Chat (the chat window opens to the side)

2. Select Everyone or someone in particular to send to

3. Type your text and press Enter to send

To receive a message, press Chat if the chat window is not already open (The chat button chages color when you receive a message, and a number above the icon indicates how many messages you have)

G

Go to the Zoom Help Center

(to see, for example, One Minute Videos)